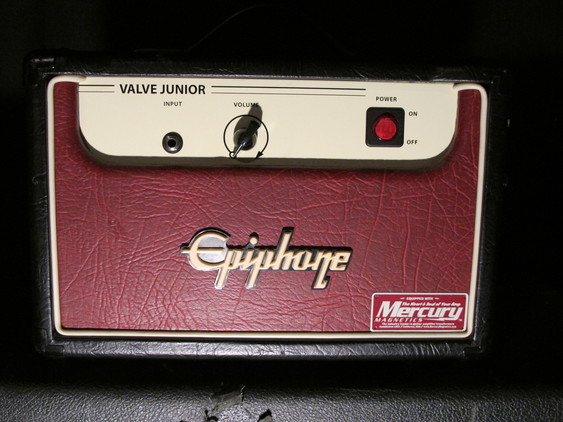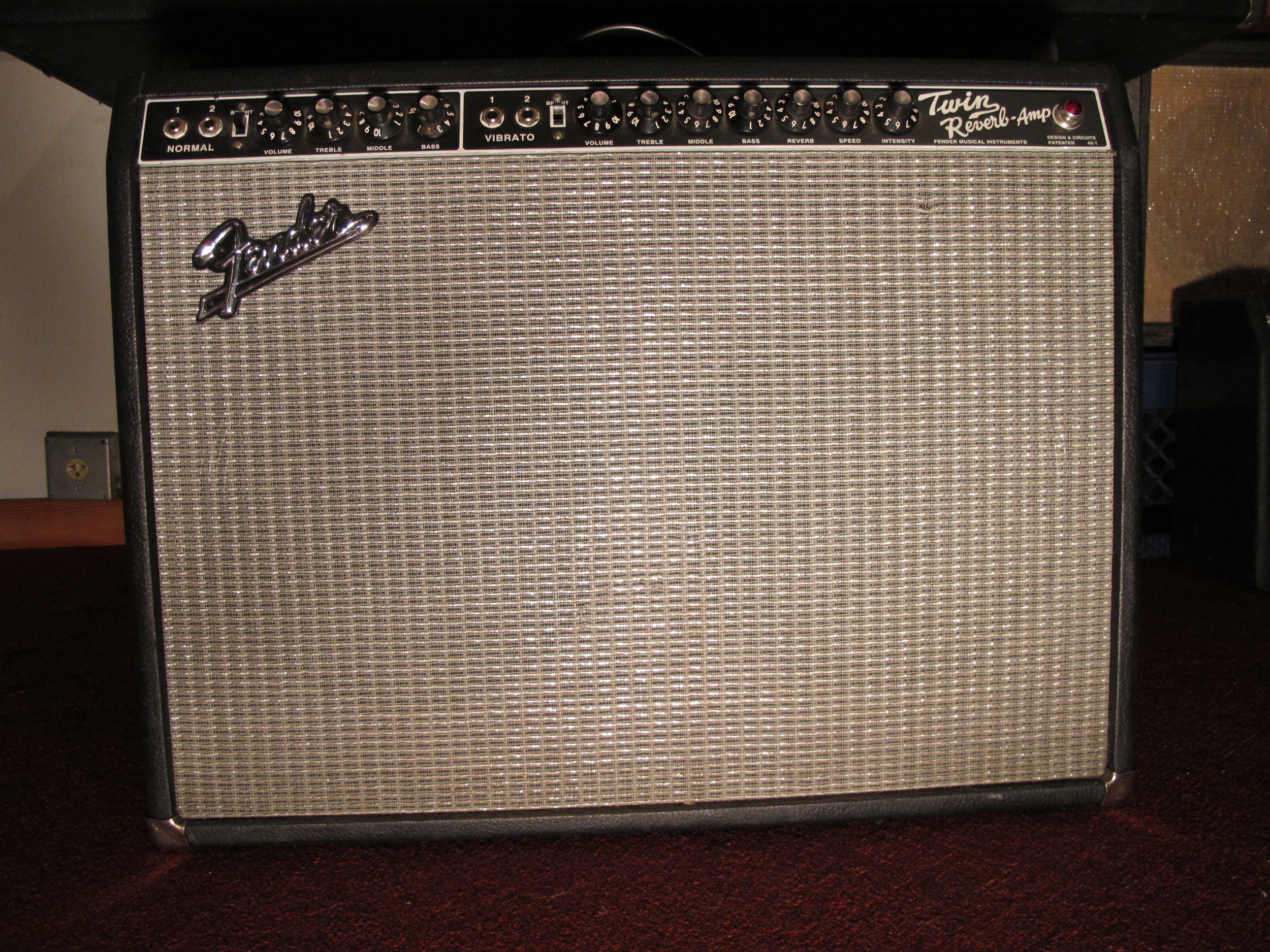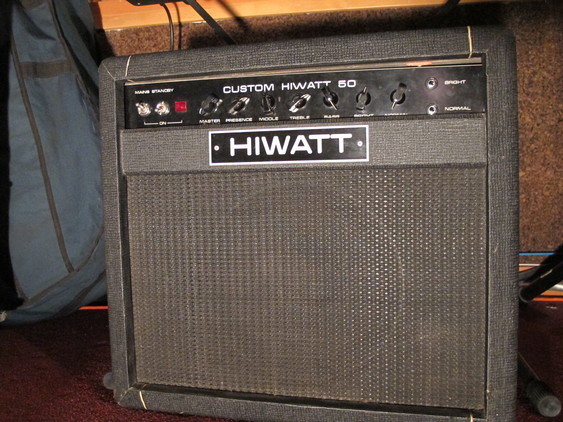 AIMS Personalized Eclipsor
Easily the coolest looking amp in our arsenal. Very similar circuit to a Fender Twin Reverb. Loud and clean. Recently recapped. Works well for bass guitar.
Ampeg V-4
Early model V-4 with reverb. Shown here with matching V-4 4x12" cabinet. Original square magnet speakers.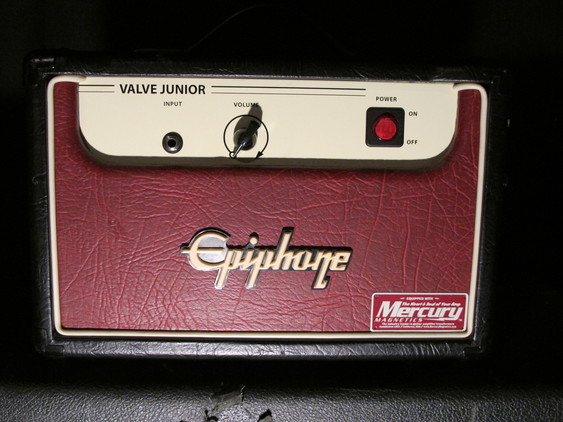 Epiphone Valve Jr.
With Mercury Magnetics mods.
Euclid 100 Double Fantasy
Custom made by Joe O'Sullivan in Leeds, UK. 100 watt Marshall JMP 2203 circuit clone but with 2 channels/4 inputs built into a Hiwatt-style box. Great sounding master volume tube amp.
Fender Bassman '59
Reissue from early 90's. Equipped with NOS RCA and Sylvania tubes.
Fender Champ
Upgraded Weber speaker. Sounds great plugged into 4x12" cabinet.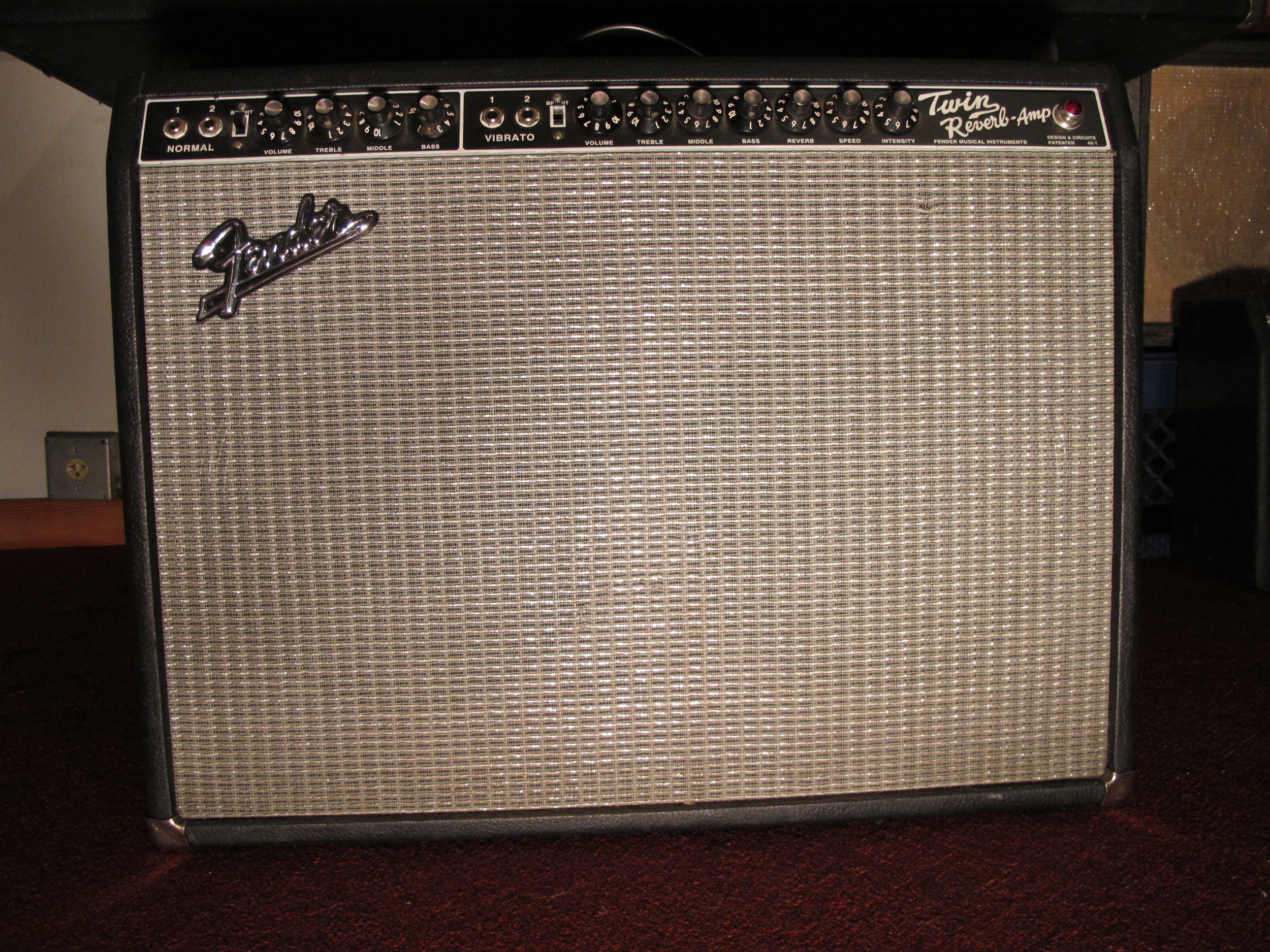 Fender Twin Reverb
90's reissue. Loud and clean!
Gallien Krueger 400RB
Solid state bass amp. 80's standard.
Gallien Krueger 800RB
Solid state bass amp. Big brother to the 400RB. 80's standard.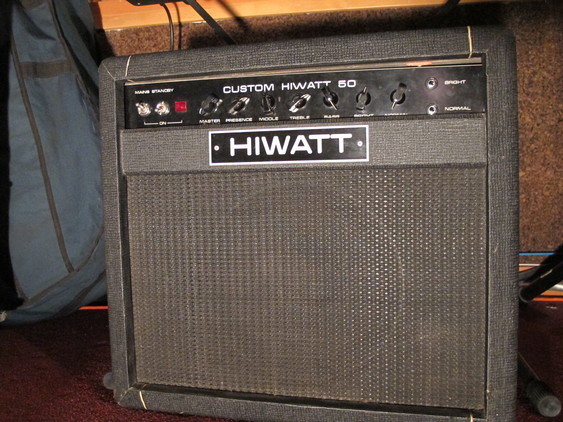 Hiwatt Bulldog
50 watt combo with 100 watt Celestion speaker. This is the loudest combo amp I've ever heard. Works well for keyboards.
Marshall JMP Superbass
100 watts. Works well for both guitar and bass. Shown here with Marshall Big M 4x12" cabinet loaded with Marshall branded Celestion G12M-65 watt speakers. Wired for 16 ohms
Marshall 1960BJH
Bottom cabinet from Jimi Hendrix stack. Taller than standard straight cabs. Loaded with 4x Celestion Vintage 30s. Wired for 8 ohms. Sounds great for bass as well as guitar. Shown here with Euclid 100 Double Fantasy amplifier.
Marshall 1960B
Loaded with 2x Fane 25 watt speakers and 2x Celestion G12M-25 watt Greenbacks. Fanes are dark. Greenbacks are bright. Sound incredible together.
Music Man HD-130
Hybrid tube/solid state. x2 for that Mammatus (((stereo))) guitar sound.
Sunn Concert head and Sunn 412 S cabinet
Solid-state Sunn amplifier. 4x12" cabinet loaded with Celestion G12T-75 watt speakers. Wired for 4 ohms.
Peavey 412M
4x12" cabinet loaded with Celestion G12K-85 watt speakers. Wired for 16 ohms.
Sunn 2x15"
Loaded with JBL D-130s. Wired for 4 ohms.
Silvertone 1482
Silvertone's version of a Fender Deluxe. Great sounding tremelo. Early breakup.
SWR 1x15" cabinet
With high powered Roland 15" speaker.
Traynor YBA-1 Bass Master
Canadian Bassman. Plexi-killer. Maybe the best sounding amp in the studio? Great for guitar.