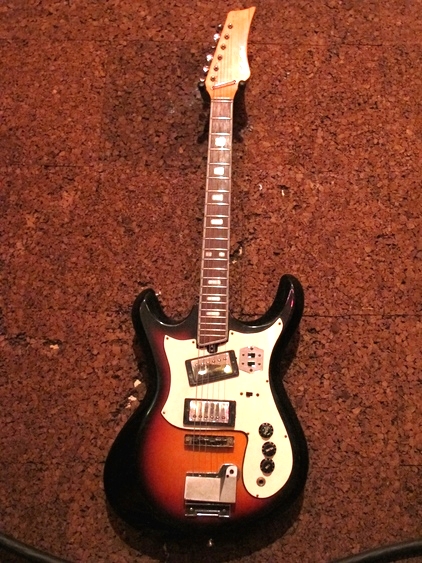 Alvarez 12-string acoustic
Kazuo Yairi built Alvarez from 1973. This guitar sounds magical. Solid spruce top. Rosewood back and sides. Low action. Please inquire about availability.
Artisan Lap Steel
Is everything in SF "artisinal"? Apparently so...
Fender Jazz Bass
Upgraded with Fender pickups. Made in Mexico. Available upon request.
Fender Precision Bass
This bass was beat to shit when I bought it in the mid 90's. It was the Trans Am bass for many years. Slays most P-basses. Very worn in. A little fight in the action. Great sustain and very deep low end tone.
Fender Stratocaster
90's Mexican Strat. I stripped the polyurethane finish and undercoat seal down to the bare wood and refinished with nitro-cellulose. Other upgrades include Callaham bridge, Lindy Fralin and Seymour Duncan pickups, and a Roland GR-3 pickup which interfaces with the Roland GR-20 Guitar Synth brain.
Fender Stratocaster XII
12-string Stratocaster made in Japan in the 80's. Very brilliant tone. Wide neck and low action makes this easier to play than most other 12-strings.
Fender Telecaster
Made in Japan. Lindy Fralin pickups. Records and plays very well.
Framus nylon string
Made in Bavaria in the 70's. Solid spruce top. Sweet sound and very playable. Available upon request.
Frankenguitar
$80 Craigslist special. I bought this guitar for the neck and liked it so much, I just kept it as-is. Kay body and no-name maple strat-style neck with laminated maple fingerboard. Jumbo frets and mystery pickups. I suspect this guitar came from Subway guitars in Berkeley.
Gibson Country-Western
From 1967. Works for both kinds of music - Country and Western. Gibson reissued this model more recently as the Sheryl Crow signature model. Available upon request.
Gibson Les Paul Special
Built in 1974. This was a reissue of the 1954 Les Paul. There is a bit of a cult surrounding these guitars. Equipped with high output Dimarzio P-90 pickups which are stock. After market Bigsby installed. Available upon request.
Gibson SG
1972 customized. Available upon request.
Ron Sargent custom 9-string
9-string from the Fucking Champs. Made at Subway Guitars by the luthier Ron Sargent. Short scale neck. Very light weight. Gibson humbucker in the neck position and lipstick tube pickup in the bridge.
Knilling upright bass
Plywood bass equipped with a transducer.
Rickenbacker 4001
1974 Rickenbacker 4001 bass. Bullshit Rickenbacker bridge replaced with Allparts bridge. Better for palm muting. (((Rick-O-Sound)))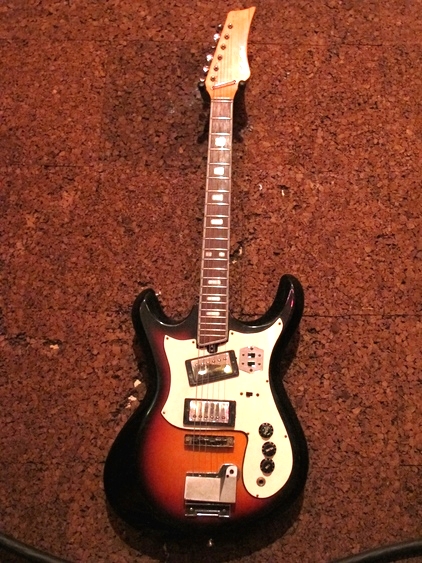 Silvertone 319.14409
Japanese made from the 70's. Bound neck makes it fancy. Catchy model name, right? I mean, c'mon guys. You could do better than that!!!
Univox Hi-Flyer
Univox copy of a Mosrite. Kurt Cobain made these popular and now they fetch real money. I got this one for free from a friend in college who wanted to smash it on stage. Thank goodness I saved it. This guitar rules!
Univox custom 9-string
Non-original body is made of oak. Great sound. As used in the Fucking Champs.
Vox Saturn IV
Short scale bass with toothpick thin neck. Equipped with flatwound strings. This bass is very playable and sounds great unplugged as well as as plugged in. Does the 'tic-tac' bass sound perfectly.